B&B Villa Corte Azul
Located in Andalucia, 5 minutes from sea, Nerja en Frigliana, you find our luxuary villa. Both in and around the villa a quiet oasis of peace.
The place to relax and recover from the daily hassle. But not only for the peace seeker, also for the actives among us there are many possibilities. There are beautiful walking and cycling opportunities directly in front of the door and in the various nature parks, which you can explore in the surrounding area. Even skiing in the Sierra Nevada, which is jus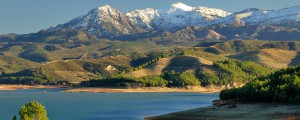 t over an hour away.
Do you have special wishes? Please let us know.
Our motto is to provide you a wonderful stay.
Culture lovers use our villa as a base for trips to the famous Andalusian cities like Granada, Seville, Rhonda, Cordoba and not to forget Malagá city or some fantastic routes along the various authentic ' white villages '. Frigliana, rewarded many times as "most beautiful Pueblo blanco" of Spain, you will find just 5 minutes away from our villa. The lively village Nerja is also as an attraction on 5 minutes from our villa. On the coast there are various possibilities to water sports and scuba diving.
Villa Corte Azul is located in the region of Axarquía in the southeast of the province Malagá. Located between Montes de Malagá and foothills of Sierra de Nevada. Spring and autumn are ideal seasons here with temperatures between 20 and 25 degrees. Even in winter the temperatures are still very pleasant. The sun shines in this region about 300 days a year! For good reasons this region is elected the best micro climate in Europe! The summers are dry and the winters are mild. So you can go skiing in the Sierra Nevada in the morning and be in afternoon at the coast in the sunshine with a drink.