Culture and cities
Frigiliana and Nerja:
Frigiliana is an idyllic and typical Andalusian village. It has been declared several times the most beautiful village in Spain! It is also called 'the pearl of Axarquía. Frigiliana guarantees Music, Culture and good restaurants! In the last weekend of August the annual 'Festival 3 Culturas' will be held here. A great cultural party to experience! Frigiliana and Nerja are part of the 'Ruta del Sol y Vino. A nice route to discover the Axarquía region. Recommended: wine tasting at Bodegas Bentomiz in Sayalonga, Dutch owners!
For a great walk, or something other than the beach: a walk through the Rio Chillar! This is a pleasant and refreshing surprise in the heart of Andalusian summer!
On Thursday is the weekly market. Ceramics, carvings, wine and sherry tasting. Frigiliana has its own waterfall where you can swim. In the adjacent nature reserves with pine forest Sierras de Tejeda, Almijara and Alhama you can walk and cycle.
A few minutes drive away is also the nice and cozy and atmospheric village of Nerja. Famous for its Balcon de Europe and Cuevas de Nerja (dripstone caves), bars and delicious restaurants. Nerja has a car-free center. Every night there are live performances by musicians on the square in front of the Balcon in the streets around.
Furthermore, among others, the villages Comares (highest) and El Borge (oldest) and Cómpeta are very nice villages to visit.
Beach
From Villa Corte Azul the first beaches are just 5-minutes away. Lying lusciously on a bed with a drink/snack enjoying the sweet sounds of the sea so close. Really relaxed. When desired we are happy to provide you with beach towels and/or other beach accessories.
Nature and sports
Hiking/Cycling/mountain biking
From the villa it is possible to start your hiking or cycling trip directly at the door.
The inviting nature is literally on the doorstep. Also a bit further away in the natural parks it is fantastic. Existing walking and cycling tours are available e.g. from Frigliana and Competa.
For the mountain bikers/cyclists a secure storage facility including main tools for small repairs and maintenance is available.
http://www.leveninandalusie.nl/site/artikel/activiteiten/69/outdoor-wandelen
Discover nature
Sierrea Nevada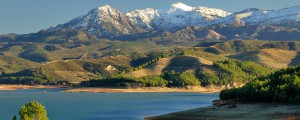 Discover the wildness of this area a short distance from our villa. Less then an hour drive away
Sierra Tejeda
Even closer and very popular with hikers and even mountain climbers with deep chasms this Natural Park is directly across the riverbed along the main road from Nerja to Frigliana.
http://www.la-yesera.com/sierra-nevada/
El Torcal and Caminito del Rey: ca. 1.5 hours drive
Just outside Alora are the 'El Chorro' mountains with the El Chorro Gorge and the so-called El Caminito del Rey. Exciting trip to explore the rough nature, feasible for most people. (do reserve tickets in advance on the internet!) This is also a beautiful area for mountain biking and kayaking. Nearby you can find 'Lobo Park Antequera'; a Wolf park.
http://www.caminitodelrey.info/en/5166/more-information
Golf
For the golf lovers among us Baviera Golf with 18 holes in Velez Malaga is at close range.
 The cultural cities to visit
Malaga: a 40-minute drive

This city has gone through a complete revival in recent years and with the wonderful cruise harbor, the luxurious shopping street and the many restaurants and bars a must see. The birthplace of Picasso is shown in many places between a multitude of historic sites. The friendly people of Malaga are the pleasant icing on the cake.
Granada: 1.05-hours drive away
Must sees are the Alhambra, a gigantic historic Palace full of remains of both the Moorish as the Catholic culture (tickets must be booked in advance through the internet, https://tickets.alhambra-patronato.es/en ) the University of Granada and its night life. These make Granada a wonderful Andalusian highlight beyond any discussion.
Antequera: 1.15 hours drive
At the foot of the mountain range of El Torcal and El Arco you find this city with many cultural elements. The relatively unknown Chimenea is the nature reserve in which the well-known rocks are visible from the 'karst period' caused by erosion and resulting in striking images.
Ronda: 1.55 hours away
The Guadalevín river divides the town in half and has a deep gorge cut out, also known as Tajo de Ronda. Here you find multiple bridges across the gorge that are most interesting.
Cordoba 2.10-hours drive away.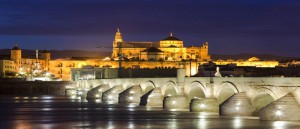 Beautiful city. Be sure to visit the Mezquita. The Centre is a UNESCO World Heritage site.
Sevilla: ca. 2.45 hours drive away.

Has the largest historical center of Europe with tourist attractions: Seville Cathedral, the Alcázar and Torre del Oro. The Triana district is considered as the birthplace of flamenco,
Below are some links to site with more information:
http://www.nerjatoday.com
http://www.frigilianatoday.com
http://www.beleef-andalusie.nl
http://www.beleefmalaga.nl